Updated by NOV 2
1. We have recorded 10% more behavior data with Shopify pixel, comparing with 3rd party JS. The reason should be Shopify web pixel's shorter loading time and more trackable pages.  
2. Our beta version with Shopify pixel will be online Nov 11st, 2022. Which means all the customer events will rely on Shopify pixel. New standard events will be available. We set 5 most important conversion goals as default, so merchants can use it immediately without any manual configuration.  
Why do I need Shopify pixel?
Before Shopify pixel (or Shopify customer events), merchants need manually add JavaScript in different places to track customer behaviors. in checkout.liquid, theme.liquid. These scripts not only were complex to install, but also unable to capture every customer event.  With latest Shopify Pixel, tracking customer events can be super easy and accurate. 
As mentioned by Shopify, the pixel provides below benefits:
Access to a stream of customer events on your online store, including checkout events
An additional layer of security for your online store and your customers, including greater control over the customer data that you share with third-party services
Prevention of third party code running non-performing Javascript, or interfering with your online store and checkout
Built in tools for privacy compliance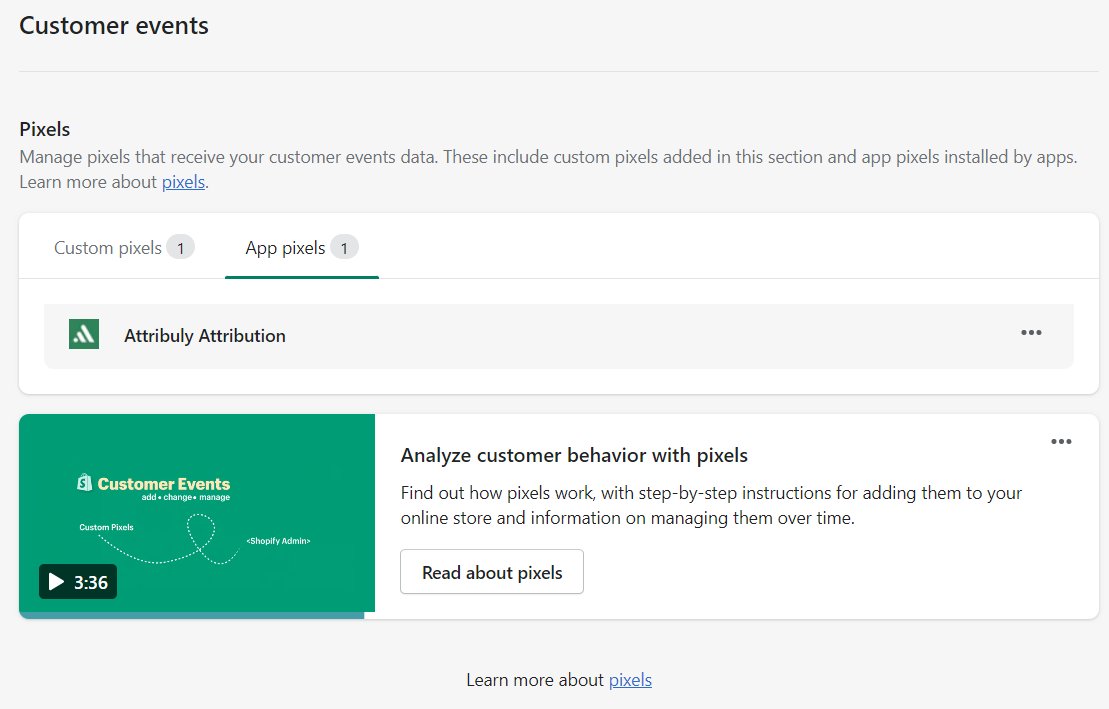 What customer events I can collect from Shopify pixel?
Customer events support some most common events during the customer journey, as listed below:
Page view
Product view
add to cart
collection view
search terms
checkout start
payment info submission
checkout complete
Merchants might also choose different filters( SKU and many other variants)  to track specific customer conversion events. Such as add to cart for specific products. 
Besides, merchants can also define custom events, please follow the instruction. 
Use custom pixel
Shopify recommends using apps first to install the pixel. If you can't find then you may need install custom pixel for yourself. 
Here I would list out serveral tech providers when you consider custom pixel:
1. Connect shopify pixel to Google tag manager with Analyzify's blog.
2. Get Google & Facebook pixel code from Shopify help center.
What's the benefit with Shopify pixel & Attribuly integration?
As a dedicated attribution tool for Shopify, Attribuly now can capture all standard customer events. It provides huge benefits for merchants:
1.  Understand how your campaigns lead a different type of conversions. 
2.  Set more customer events as a conversion goal, and analyze the attribution for different campaign goals. The data integration with Shopify makes you easy to select specific product conversions as goal. So you can use it in new product launches, key product promotions etc.
3. Draw invaluable customer conversion path for different goals, at single user level.
Furthermore, merchants need no any code, it's super easy to set up. That saves a lot of time-consuming work. 
How to enable the integration?
By installing Attribuly, merchants have authorized access to Shopify pixel without any further additional work. Attribuly will automatically collect customer events. Merchants may view those events at a single customer level, set events as goals and analyze attribution reports.