I have GA, why should I still use customer tracking tool?
Merchants face below issues when using GA:
1. GA can't all the purchase conversions. For example, subscription orders, resellers' orders, which makes GA's transaction data has a lot difference with real data. This needs to pass through via  server level interface . Server-side tracking is going to be the main stream as client-side tracking is gettiing harder and harder.
2. User-level analysis is too difficult. For example, I saw several transactions, but I have no way to see which customer this conversion is and how he was converted. This makes it very difficult for me to run my customer insight. And GA cannot track user personal information , so it is difficult to target specific users through client id in audience. For e-commerce brand, GA is absolutely not enough
3. Technical problems, such as GA is based on session analysis, but the  industrial trend is is event based, so GA also has GA4. If you are interested in technology, you can refer to This blog.
So, if you are analyzing Traffic, GA is enough; analyzing events, it is possible but very complicated; analyzing users, let's use other tools. Attribuly is also a event based with user identification ablilty. 
If customer behavior tracking is blocked by cookie issue, how can we send high quality data back to Facebook? 
First, due to the Privacy Policy, it is common practice for ads to adapt server side API, such as Facebook CAPI , Google Conversion API , TikTok conversion API . The benefits of such APIs are not easily affected by browser cookie issue.
Conversion API is  becoming increasingly important especially for smart ad such as Facebook advantage +. Accurate conversion data is one key for this ad. 
Back to the browser pixel, if the user uses various privacy modes, it will be impossible to collect user data. In addition, it is very time consuming to install pixel in Shopify store, so Shopify launched Shopify pixels & customer events. Shopify's Sandbox mechanism, even if the cookie is cleared, we can still get behavioral data, such as page view, purchase, checkout, payment, but there is no identity information such as device ID of the user. But don't worry, the URL address of ads platforms is still marked with user information that only the platform can recognize, so we still have ways to improve the identity with privacy compliance.
According to Facebook's best practices , CAPI needs to transfer the same type of events as the browser Pixel.
Attribuly is testing CAPI internally, I believe it is the best server-side tracking solution in the market. I hope this feature can dramatically improve ROAS, and I have found success with our beta users. For advantage + advertising, this is undoubtedly an important part. For related cases, please click Facebook capi case , Patpat through CAPI reduced by 34% customer acquisition cost and increased orders by 11%.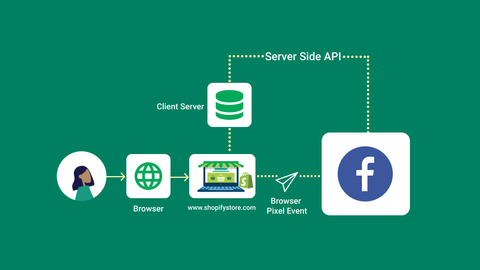 What's the difference between Shopify Facebook channel and Attribuly CAPI?
Faceook channel can upload Shopify order data, but it is limited to that. So my user feedback is not good enough. As above, if you want better Postback data, you need to Postback all the conversion events that are same with browser pixel.
 How Attribuly makes a purchase conversion 100% accurate?
Purchase conversion data is what the eCommerce team looks everyday for attribution. The data from Attribuly browser side pixel may loss data, so we also get the purchase data from Shopify server side with a real time method. We combine the purchase data from both client-side and server-side, to make sure it's accurate.